Dear Friend,
You are receiving this newsletter because you support the Bucks County Chapter of the Board of Associates of Fox Chase Cancer Center's efforts to prevail over cancer by contributing to cancer research.  We thank you and hope to see you at an event soon!
In this newsletter you will find details of the research you enabled, information about the Chapter's upcoming events, a member profile and how you can get involved.
$235,050 For Cancer Research in 2016
Liz Rizor, Lillian O'Connor, Addie Riggione, Rhea Brown and Michael Flanagan presenting the donation check in September, 2016 to Fox Chase  
Your support and the support of other generous individuals and sponsors resulted in the Bucks County Chapter raising $235,050 in 2016 for research at Fox Chase Cancer Center.  The majority of this money supported three immunotherapy research projects.  Immunotherapy is an exciting new treatment approach that uses a patient's own immune system to fight their cancer.
The immune system naturally scans the body for cancers and is often effective in killing cancerous cells. However, sometimes a tumor finds ways to avoid immune cells, allowing it to grow and spread, undisturbed by the immune response. If the immune system can be trained or re-focused to recognize and attack a cancer, it may be able to adapt along with the cancer and maintain a longer-term response against a variety of cancer types.
As a new treatment, there is still much to learn about immunotherapy.  On-going research continues to uncover newer and better agents, find combinations that increase the numbers of patients who benefit, and determine blood and tissue-based markers to identify those patients most likely to benefit.
Click here to learn more about the immunotherapy research projects.
Dick Millham – Fox Chase Cancer Survivor and Bucks County Chapter Board Member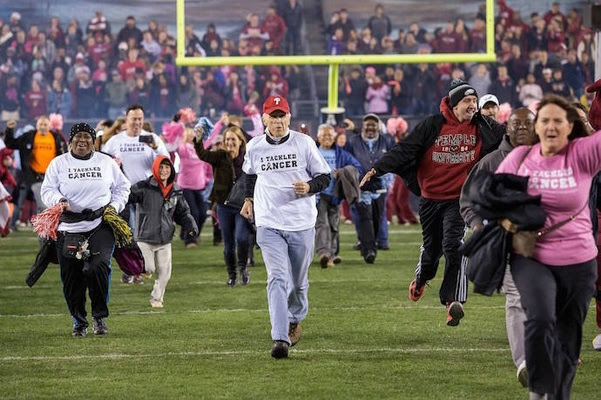 Dick Millham taking the field at the 2015 Fox Chase Cancer Survivor's Day Celebration at a Temple Owls football game at Lincoln Financial Field
Dick Millham on campus
By Emily O'Donnell
When Richard "Dick" Millham talks about Fox Chase Cancer Center, he can't help but mention his late wife, Virginia.
"My wife was diagnosed with breast cancer in the late 1980s," says Millham. "She had a mastectomy at another local hospital and was deemed cancer free. But when the cancer metastasized again six years later, I said to her doctor, 'We're going to Fox Chase because it's the only place that can give us hope.'"
Millham knew about Fox Chase, having lived in the Philadelphia area all his life. When he walked through the doors for the first time, he was touched. "I felt a special energy," he says. "Every employee was so helpful and courteous. The care was just outstanding."
"Ginny," as Millham affectionately calls his wife, was treated successfully for three years. Although Virginia died in 1998, Millham was so grateful for the care she received that he contacted Fox Chase's Bucks County Chapter and sent them a check for $10,000. He joined the chapter a few weeks later and has been supporting Fox Chase ever since.
Millham's tireless advocacy for Fox Chase has never let up, even through his own cancer journey when he was diagnosed with Merkel cell carcinoma, a rare form of skin cancer. Through treatment from radiation oncologist Thomas J. Galloway, MD, and surgical oncologist Miriam N. Lango, MD, Millham has been cancer free for more than three years.
These days Millham, now 82 years old, splits his time between working at the insurance agency he founded in Doylestown, Pennsylvania and working the raffle table at Fox Chase fundraisers.
He adds, "Anyone can see that Fox Chase is just plain special."
Click here to read more about Dick Millham's journey with Fox Chase.
Save the Date – Art Show on May 20-21, 2017
George Bramhall and Liz Rizor
The Bucks County Chapter of Fox Chase Cancer Center will host the 20th annual George Bramhall Memorial Art Exhibition and Sale onSunday, May 21 from Noon-5:00 p.m. at the Prallsville Mills, 33 Risler St., Stockton, NJ 08559. Free admission.
Please join us for a complimentary Wine and Cheese Preview on Saturday, May 20 from 4:00-6:00p.m.!
The event will feature more than 20 artists who will each donate 35% of their event sales to cancer research.
Click here to read more about the Art Show.
Save the Date – Party in the Garden, October 15, 2017, Paxson Hill Farm, New Hope, PA
Who We Are
Lillian O'Connor and Denise Marshall, Bucks County Chapter Board members
The Bucks County Chapter of the Board of Associates of Fox Chase Cancer Center is a diverse group of passionate and creative volunteers who fundraise year-round through projects and special events in support of research at Fox Chase Cancer Center.  As an all-volunteer group, one hundred percent of the proceeds raised go directly to Fox Chase researchers who are working at the leading edges of cancer detection, prevention and treatment. Since it's inception in the early 1980's, the Bucks County Chapter has raised over $4,400,000 for cancer research.
This is our way to give back and we have so much fun doing it. Would you like to know more about becoming part of our group?  Please contact Liz Rizor, Bucks County Chapter President, at 215.808.5712.
We are thrilled to recognize the following individuals who joined the Bucks County Board as new members in 2016: Jamie Stamos, Barbara Welsch, Carolyn Kozakowski, Margie Zuckerman, Norm Troxel, Mary Schwarzenberger, Michael Flanagan and Bill Gruccio.
Thank you for your continued support!
The Bucks County Chapter, Fox Chase Cancer Center